Tied 2-2 in the bottom of the ninth with a runner on 2nd base, first base is open, and Freddie Freeman is at the plate. Also a submarine pitcher on the mound that all his pitches run in on left-handed hitters making it easier for lefties but more difficult for righties.
Terry Francona's decision? Walk Freeman to get to Chris Johnson….big mistake!!
Johnson drove a sharp line drive past the diving short stop and Jordan Schafer was able to score from 2nd base. Braves win 3-2.
"Any time you watch someone get walked in front of you, you try to step up," Johnson said after his first career walk off hit. "I just tried to have the best at-bat I could and square something up and it went through."
Manager Fredi Gonzalez believed it was the right call to walk Freeman, "I would of done the same thing, you've got Freddie Freeman hitter third against that submariner and you've got the right-hander, Chris Johnson, behind him. Even though Johnson is second or third in the league in hitting, you've got to pick him. And I think I would of done the same thing"
Johnson spoke on continuing to win games and not giving up, "We have way to much respect for the teams in our division, we have way to much respect for the Nationals. We want to have the best record, we want to come out and play every night. We have a group of guys that come out and want to work every day and try to get better every single game so we are going to keep the pedal to the metal and keep going,"
Some tweets from Braves players after the game last night…
luis armando avilan @lavilan70
An another great victory for the #bravesnation – Another step closer for what we want #thehuntforoctober #GoBraves
Joseph Terdoslavich @JoeTerdoslavich
Walk Off!!!
Nothing like a walk off winnnnn!! @C_Johnson28 thank you very much! #waterworks #chopchop
My bad @C_Johnson28 ! I'll go for your throat next time! "@MLB: You hit a #walkoff, so I will smush your face: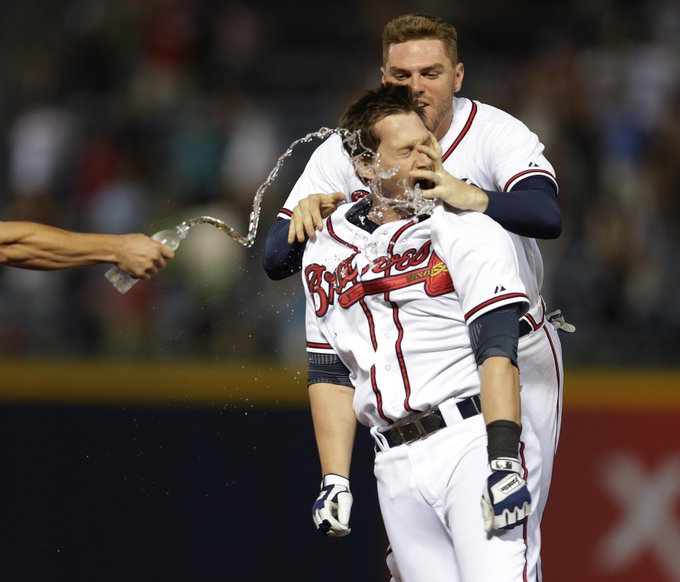 Chris Johnson @C_Johnson28
Tags: Atlanta Braves FanSided