The Atlanta Braves huge 6'5″ 225 pound first baseman Freddie Freeman has been the Braves' MVP this year, picking up 96 RBIs with 19 homers and a .305 batting average. He's been particularly dangerous with runners in scoring position with a .440 average this season. But should Fredi Gonzalez rest Freeman towards the end of the season in prep for October?
I believe they should…
If you watch Freeman during the last few game, in particular the last couple weeks, he has had a consistent limp to his walk/run. I noticed this when attending a game and thought to myself "he is walking back to the dugout gingerly, I hope nothing is wrong."
Towards the end of August, Freeman had only two hits in his last six games and then now in September Freedie is 7-27 which comes out to a .259 batting average.
In 2013, he has appeared in 128 games out of the Braves 142 contests and missed over two weeks in early April. Though he's only 23-years-old, that isn't a lot of rest.
On Sunday, Freeman banged into the fence at Citizens Bank Park after attempting to catch a popup in foul territory, but the good news is that the Braves don't expect him to miss any time.
"I think he just banged it up a little bit. He's fine. It's just one of those things I think we're going to have to manage a little bit and hopefully down the road here we can give him a couple days. But nothing major."
But if we rest him now, we'd have a rested up, strong Freddie Freeman that we need if we want to go far in October. Do I want Freeman out of the lineup? Absolutely not. But if he has any injury now, it will just aggravate him through the playoffs.
On a lighter note, below is Freddie with buddy Chris Johnson during a selfie on the plane to Philly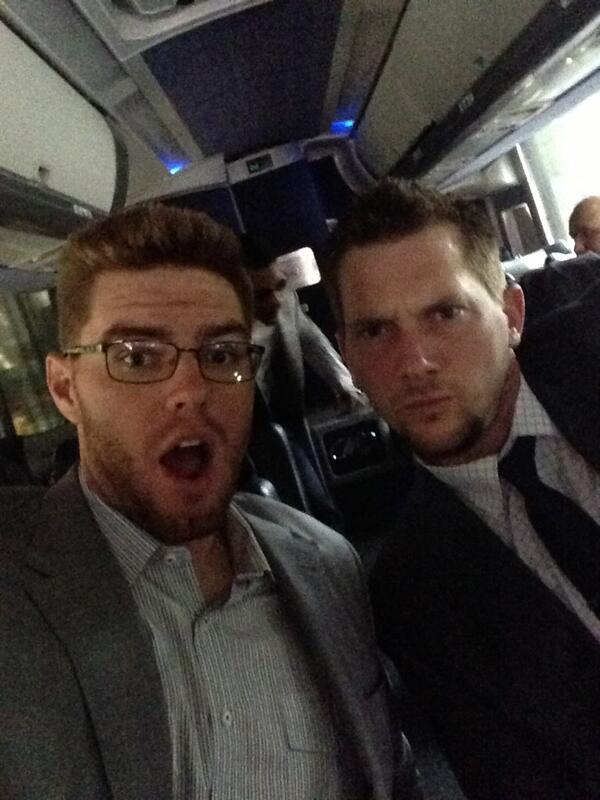 Tags: Atlanta Braves FanSided