Atlanta Braves outfielder Jason Heyward, who has been sidelined for nearly three weeks due to a broken jaw, had the restrictive band and braces removed from his mouth Monday and is preparing to take batting practice later this week.

Braves general manager Frank Wren provided the update on Heyward's status prior to Monday's victory over the Miami Marlins. The Braves anticipate that Heyward will rejoin the team and take batting practice Friday in Atlanta.

"He's literally and figuratively chomping at the bit," Wren told reporters, according to the Atlanta Journal-Constitution.
MLB: Atlanta 5, Miami 2
Evan Gattis triggered a big fourth inning with a two-run double Monday and the Atlanta Braves went on to post a 5-2 win over Miami.

With the game in a scoreless tie, Justin Upton Freddie Freeman hit consecutive doubles off Henderson Alvarez to lead off the fourth and Gattis followed with another two-bagger, sending a pitch down the third-base line for two RBI.

Chris Johnson and Elliot Johnson each added an RBI in the five-run outburst, which handed the National League East-leading Braves a win in the first of a four-game series.
Atlanta Braves Evan Gattis Crushes the Longest Home Run in the MLB in 2013
Evan "Oso Blanco" Gattis, a rookie catcher and outfielder for the Atlanta Braves crushes the longest homer of the 2013 MLB season. The blast went 486 feet by ESPN's calculations. Oso Blanco means "white bear" in Spanish, which is a nickname some minor league teammates gave him to describe his bear-like figure.
Elliot Johnson @ElliotJohnson9
Twitter poll: Better abs, Dan Uggla (left) or Gerald Laird (right)?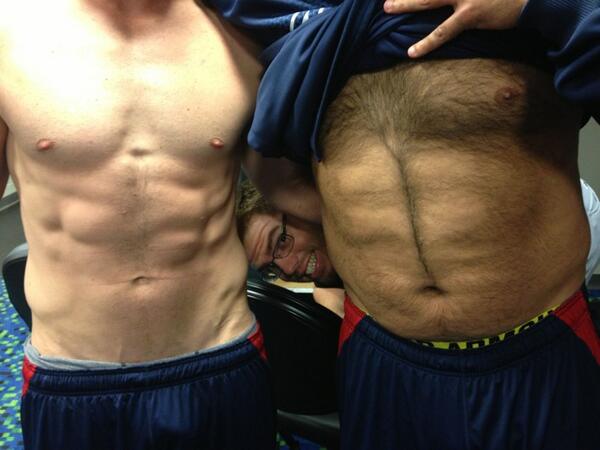 >>At first I didn't see "Waldo" but after a second look, I couldn't stop laughing…Freddie Freeman is the man
Tags: Atlanta Braves FanSided