Tonight, the Atlanta Braves are facing Pittsburgh Pirates LHP Francisco Liriano…
and here is tonight's lineup: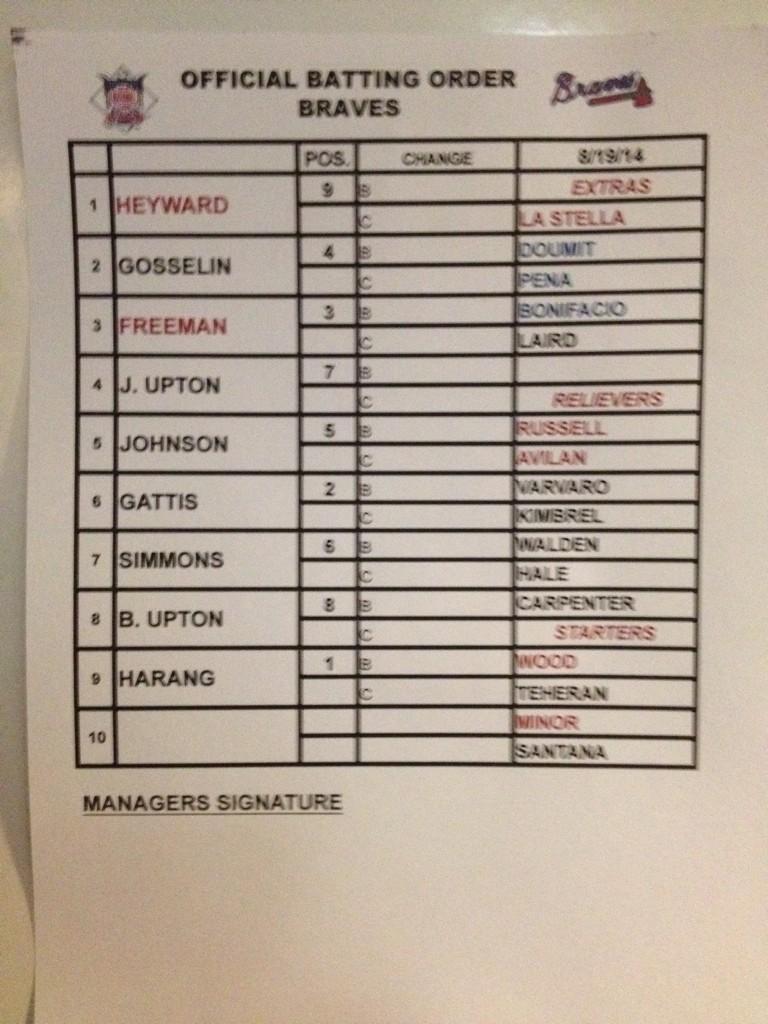 So, why does this bother me and so many other Atlanta Braves' fans?
A few reasons:
1. The absence of Tommy La Stella- La Stella has been an elite hitter against left-handers this year with an .898 OPS. While I understand that Gosselin has also done his fair share of damage against LHP this year (over a 1.000 OPS in the Minors), it is very possible to play both guys in the same lineup.
2. The absence of Emilio Bonifacio- The acquisition of Emilio Bonifacio has me scratching my head lately. I thought for sure that Bonifacio was going to get a few starts at 3rd base against RHP, whom Chris Johnson has struggled so mightily against this year. Also, I thought for sure that Bonifacio, with his gaudy .985 OPS against LHP would surely replace B.J. Upton in the lineup against said pitcher. This hasn't happened near enough, and the decision to trade a good prospect to misuse 2 of the pieces is frustrating.
3. The presence of B.J. Upton- Upton doesn't deserve to be in any lineup, much less a lineup of which a lefty is on the mound. His .512 OPS against LHP is so immensely bad that said pitchers should be walking left-handed hitters just to get to him.
4. Jason Heyward at leadoff- Some might disagree here and this one is about the only one that's defendable. The Braves have been sparked by Heyward's presence at the top of the lineup, but Jason's OPS against LHP is .454, even worse than B.J's.
What would I do if I were Atlanta Braves' Manager?
Split stats are a real thing and the chances are that each player in the Braves lineup will see Liriano 2-3 times tonight. With Upton and Heyward in the lineup, the Braves are essentially giving free outs. It changes for Heyward when a RHP comes in, but not for Upton. If I were the manager, Upton is riding pine now. Games are too important to be worrying about the future of his contract. My lineup:
1. Emilio Bonifacio
2. Philip Gosselin (GOOOOOSE!) LF
4. Justin Upton RF
5. Chris Johnson
6. Evan Gattis
7. Tommy La Stella 2B
Leaving Heyward on the bench would be a difficult decision and would be the only one I might 2nd guess as a manager. Heyward saves so many runs in the field that it might be beneficial to roll the dice and give him the opportunity to prove the numbers wrong.
Am I alone here? Is anyone else baffled by these decisions? Let's hear it!
Tags: Andrelton Simmons B.J. Upton Chris Johnson Emilio Bonifacio Evan Gattis Freddie Freeman Jason Heyward Justin Upton Phil Gosselin Tommy La Stella